Hello, prospective Pitch Wars mentees!
Are your eyeballs ruined from blog hopping yet? Please take a moment to blink and have a sip of water (a cocktail is okay, too, because hey, we're not monsters).
I'm so excited to be co-mentoring Adult Pitch Wars with Michelle Hazen this year! You can learn all about us and our llama and/or snacking preferences below. First, let's talk about what genres we're taking.
GENRES:
Romance
Women's Fiction
SUBGENRES:
Contemporary
Romantic Comedy/Chick Lit
Paranormal
Suspense
Western
Sports romance
Fantasy and Urban fantasy (ONLY with strong romantic elements)
Light sci fi (think post-apocalyptic okay, but not full space ship laser battle)
New Adult (though we may recommend you age up or down into Adult or YA)
We are NOT a good fit for:
Hard sci fi or space opera
Epic fantasy
Fantasy with no romance plot
Historical
Hockey, football, or baseball sports romance, unless the female is the athlete
Literary fiction
Erotica (steamy romance okay!)
Inspirational
On the page sexual assault
Child abuse
MSWL: What's our catnip?
This is in addition to the basic genres and subgenres we prefer. This is not at all to say that if yours isn't on this list, we won't love it, too. Very often you don't know what you want until you see it, right? This list is just sort of an inside peek at what our favorite stuff is, certain things that when we see them, our eyes light up and we start texting each other in all caps DID YOU SEE THE…
Diversity of all kinds

LGBTQIA+

#ownvoices (though please don't feel you need to out yourself in your query if this isn't something you are comfortable sharing)

Musicians

Outdoor sports

Adrenaline sports/racing (fast cars and motorcycles welcome!)

Deep friendships of all kinds

Gender-swapped tropes/setups

Female-led stories, lots of lady power & female agency

Positive female friendships (the Bechdel test is something to check out, if you're unfamiliar with it)

Friends to lovers

Enemies to lovers

Hurt/comfort

#MeToo stories

Body positive characters

Curvy heroines

Cowboys (especially if they cook as well as they ride)

Heroines with short hair

Man buns

Southern settings: ranches, small towns, rodeos

Especially New Orleans or Texas

Dogs

Horses

Realistic conflicts and flawed characters

Voicey, down to earth, and FUNNY narrators! We love to laugh. Think John Green, Kelly Siskind…

"Prickly," "sassy" & "difficult" heroines, especially anti-heroines, are more than okay!

BROMANCE ALL THE BROMANCE!

To quote Lady MSWL herself--aka Jessica Sinsheimer--give us highbrow sentences with lowbrow content. We tend to fall for genre-bending books with a commercially fast plot, but beautiful sentence-level writing and deep, nuanced characterization.

Seriously, we like so many things. If you think we might enjoy what you've got, sub to us!
Meet Michelle and Katie!
​
We met while writing Vampire Diaries fanfiction, and we've been on this crazy writing journey together since 2012. This is our first year mentoring Pitch Wars together!
​
♥
Hi, I'm Michelle!
I'm a semi-nomadic author/editor/tortoise biologist/outdoor sports junkie who lives the greater part of the year outside. I adore horses, enthusiastic (but not perky) people, The Walking Dead, and Tillamook cheese.
I am agented by the amazing Naomi Davis of BookEnds Literary. I am also the indie author of the Sex, Love, and Rock & Roll series, and the upcoming contemporary romance UNBREAK ME (2019 Berkley/Penguin). My books have won the Great Expectations, Lonestar, and Southern Magic Awards. I'm all about hybrid career options, so if you've got indie pub credits and you're ready to take on Agentlandia, please sub to us!
I was a Pitch Wars and FicFest mentor in 2016, and I've mentored Nightmare on Query Street since 2015. I'm currently a 1:1 book coach with Author Accelerator (book coach = editor+therapist), and I also mentor clients through their Story Genius and Blueprint for a Book classes. I had a load of fun helping them put together their Pitch Track class on how to query agents. I've run a very busy freelance editing business since 2016 (though please do not book my editing services before the sub window if you're planning to sub to us in Pitch Wars). I've seen lots and lots of different queries and books in various genres, and I have experience distilling my impressions of a book into actionable feedback. If you're curious, you can find out more about my editing style at my Author Accelerator Book Coach page, including my favorite parts of mentoring writers, and a list of my favorite books.
Many of my former clients and contest mentees have gone on to be agented, win awards, sign book deals, be nominated for Golden Heart awards and be included on "Most Anticipated" and "Editor's Choice" lists. I'm very proud to say that my very talented Pitch Wars and FicFest mentees both signed multi-book deals for their contest manuscripts.
​
♥
​
Hi, I'm Katie!
​
I'm a recovering cheerleader from a small town outside of Austin, Texas, mom to a future philanthropist, wife to a superman, and continually swept up in my next love story. I can't seem to make sense of anything without music in the background, and my playlists range from 80s love songs, 90s grunge, 00s punk, to new age European underground in less time than it takes me to burn dinner.
I'm agented by Kelly Peterson of Corvisiero Literary Agency, and so honored to be part of #TeamCorvisiero and #TheFellowship. I signed with Kelly through #PitMad in Fall 2017 (thank you Brenda Drake!!!), and I can't wait to see what we're going to accomplish together. Before that, I successfully participated in contests like PitchSlam, PitchMas, PitchWars, Sun vs. Snow, WritePit, Write Club, WriteSlam, QueryKombat, as well as others - so yeah, I've totally been there.
On the editing side of things, I studied English and Education at Texas State University. As a Freelance Editor, I've worked with other authors in all stages of the publishing process, many of whom have gone on to finalize in contests, sign with their dream agents, and publish their books. (Goldnox Editing Services is temporarily closed, but either way: please do not ask to book my or Michelle's editing services before the sub window if you're planning to sub to us in Pitch Wars).
♥
Our Mentoring Style
Our mentoring style is best described as Excited ALL CAPS or also "Look, Michelle finally learned to use gifs and now she can't stop." We believe in having fun with writing, and that includes revisions. This isn't coal mining, peeps, and if you can't have fun at every step along the way, you might as well grab your pickaxe and head to the mines because there are easier ways to pay the bills.
We'd say we believe in the compliment sandwich, but our comment style is more akin to a compliment buffet platter. And if we pick you for Pitch Wars? We're sure to have plenty of material to compliment. We want to make sure our mentee knows the strengths of their writing at every stage, and sees all the things they're doing RIGHT so they can consciously learn to better share their talents with the world. Will we dig into your MS and fix every weak conflict, pacing lag, punctuation mark, and plot hole? Absolutely. But you're not going to come out the other side feeling like somebody played kickball with your soul, either.
In Pitch Wars revisions rounds, we are going for less of those icky, despairing feelings:
And more of those excited, energized feelings:
And we want to make it super easy for everyone to learn from Pitch Wars, whether you're selected or not, so we made a Bibliography of Writing Blogs to help you get your manuscript in shape, and also stay sane in the process. Especially check out Katie's hilarious series on punctuation, because who knew punctuation could be funny?
If you're curious about our favorite books, check out Michelle & Katie's bios on the Pitch Wars website.
We will both be attending the #AskMentor chat on Aug 16 at 8pm EST, so if you have questions for us, bring them to the chat!
In conclusion, we can't wait to read your love stories, and we aren't above bribing you with adorable gifs, so if you sub to us, just know there's a lot more where this came from:
​
​
​
​
​
​
​
​
​
​
​
​
​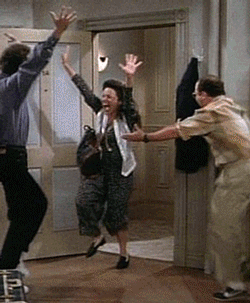 Meet our fellow Adult Pitch Wars Mentors!